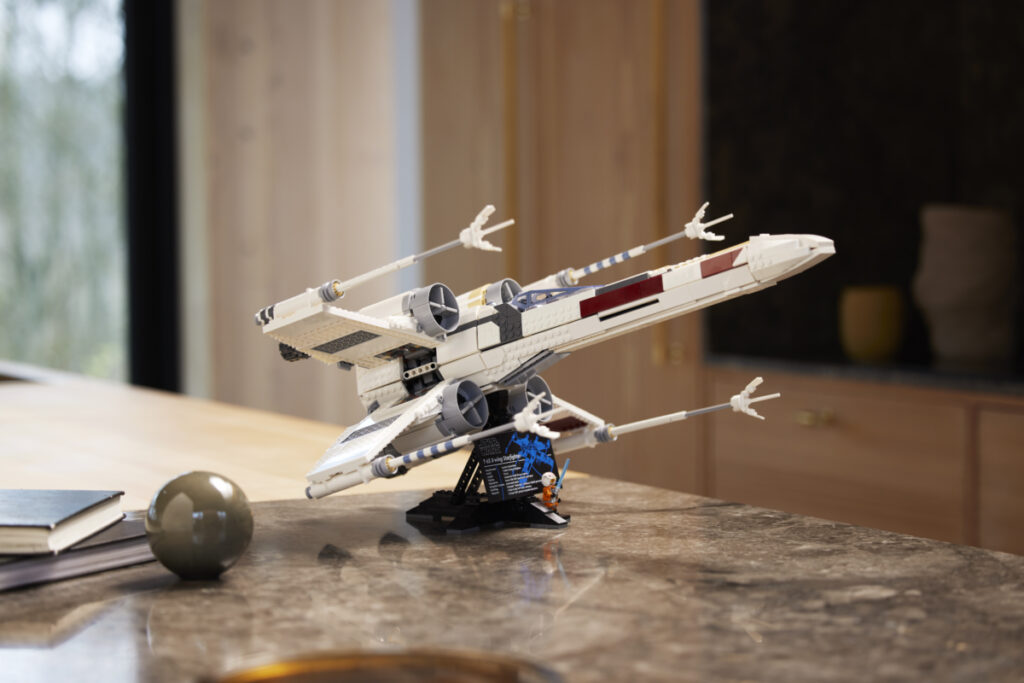 Today the LEGO Group has announced new Star Wars sets coming out soon! In May a new version of the legendary X-wing starfighter will hit the shelves and it is looks so good! Let me share some more details from this Star Wars fans must-have!
This LEGO Star Wars X-wing is definately one you have seen multiple times on the Star Wars™ trilogy and Star Wars: The Mandalorian. The new set is quite a large one consisting of almost 2,000 parts. It is no surprise this item is the Ultimate Collector Series version of an X-Wing Starfighter. For the fans this is the means to recreate authentic details using, including the opening cockpit, enough space behind the cockpit for the R2-D2 droid minifigure, and wings that can be adjusted from flight mode into attack mode, simply by just turning a switch.
"Whilst this is not the first time we have brought the X-wing Starfighter to brick life, this is the most detailed and I am so excited with the final design. It is such an iconic ship, by designing at this new larger scale we were able to include more specific details such as the thrusters, the cockpit and the wings. We are so excited to now share this with fans."

– Henrik Andersen, LEGO Design Master
---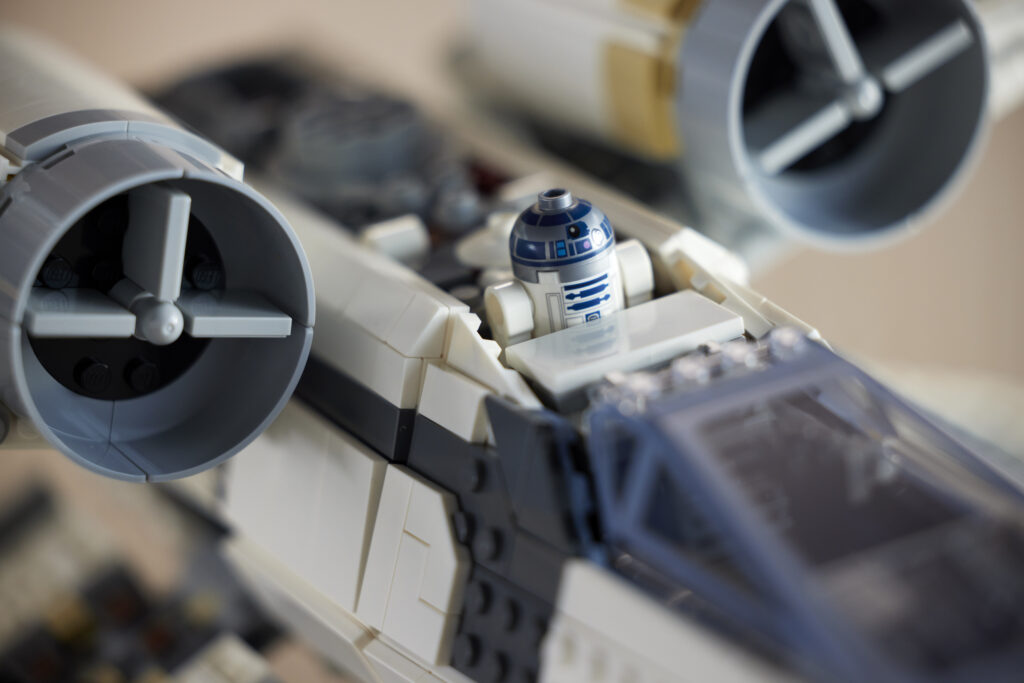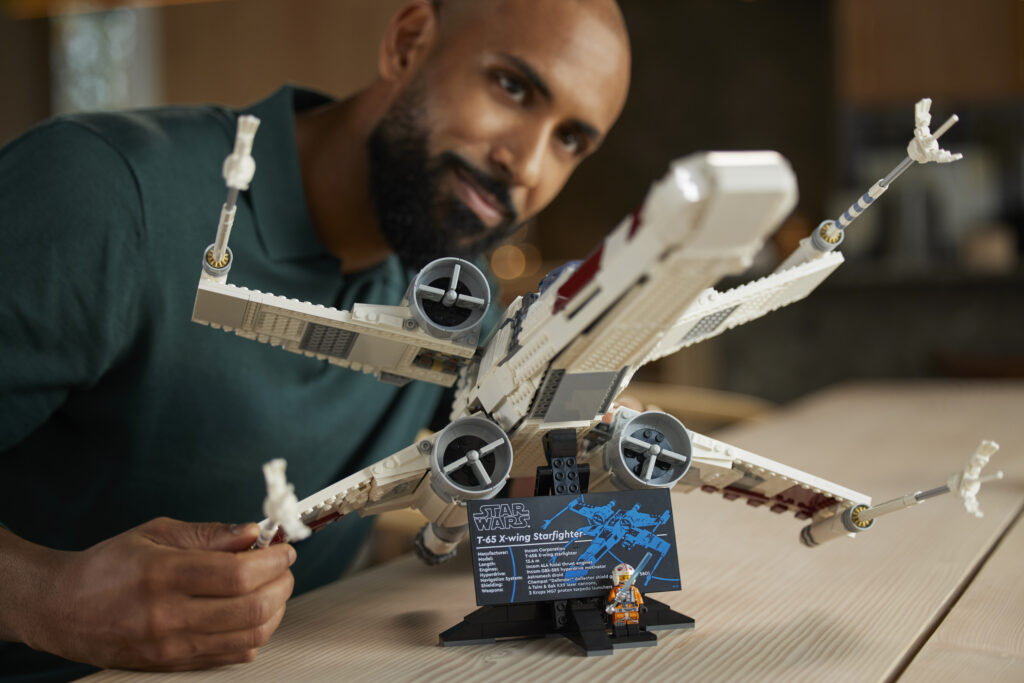 Information LEGO Star Wars UCS X-wing Starfighter™ #75355

This collectible is one for adults and makes a spectacular gift for yourself, or another Star Wars fan. You can find both illustrated instructions in the box and download the LEGO Builder app for 3D zoom and rotate tools. This will help you and more to assist you with every step of this complex build.
2 iconic Star Wars™ characters with this set – Including a Luke Skywalker LEGO® minifigure with a lightsaber and an outfit designed specifically for this set, plus an R2-D2 LEGO droid figure.
Authentic details – Turn the dial on top of the X-wing to adjust the wings for either flight mode or attack mode. It is no wonder this set therefore also features a space for R2-D2 behind the cockpit
Designed for display – Display the X-wing on the stand, which features a plaque showing X-wing technical data and has space for the Luke Skywalker LEGO® minifigure.
Gift idea – Treat yourself or give this as a birthday present or holiday gift to another Star Wars™ fan, experienced LEGO® builder or collector of LEGO Star Wars UCS sets
A complex, immersive build – This buildable LEGO® Star Wars™ X-wing display model measures up to 55 cm long and contains 1,949 pieces.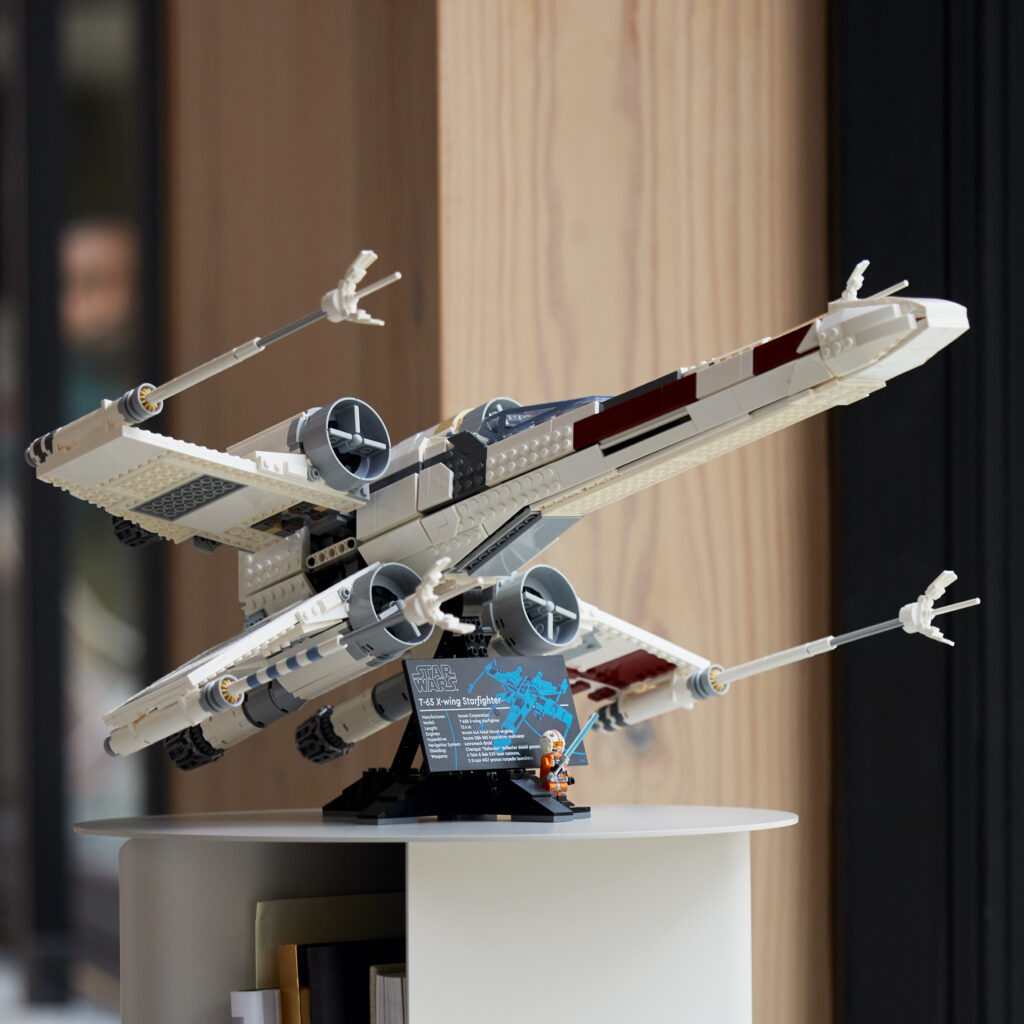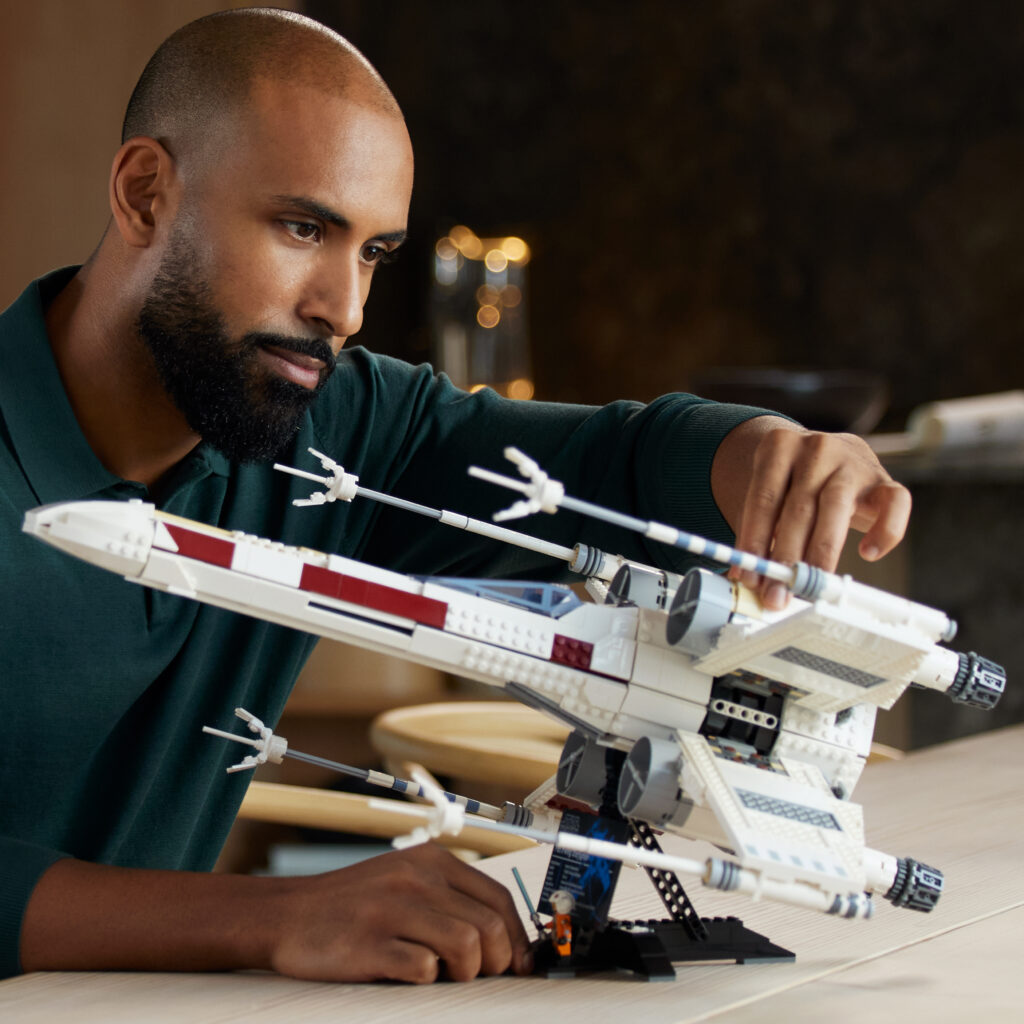 ---
75355 LEGO Star Wars™ Ultimate Collector Series X-wing Starfighter™ set details
Set Name: UCS X-Wing Starfighter™
Set number: 75355
Theme: Star Wars
Pieces: 1,949
Age: 18+
Minifigures: 2
Dimensions: H: 10.5 " (27 cm),W: 21.5″ (55 cm), D: 17.5″ (44 cm)
Release Date: VIP early release: 1st May 2023 / regular release: 4th May 2023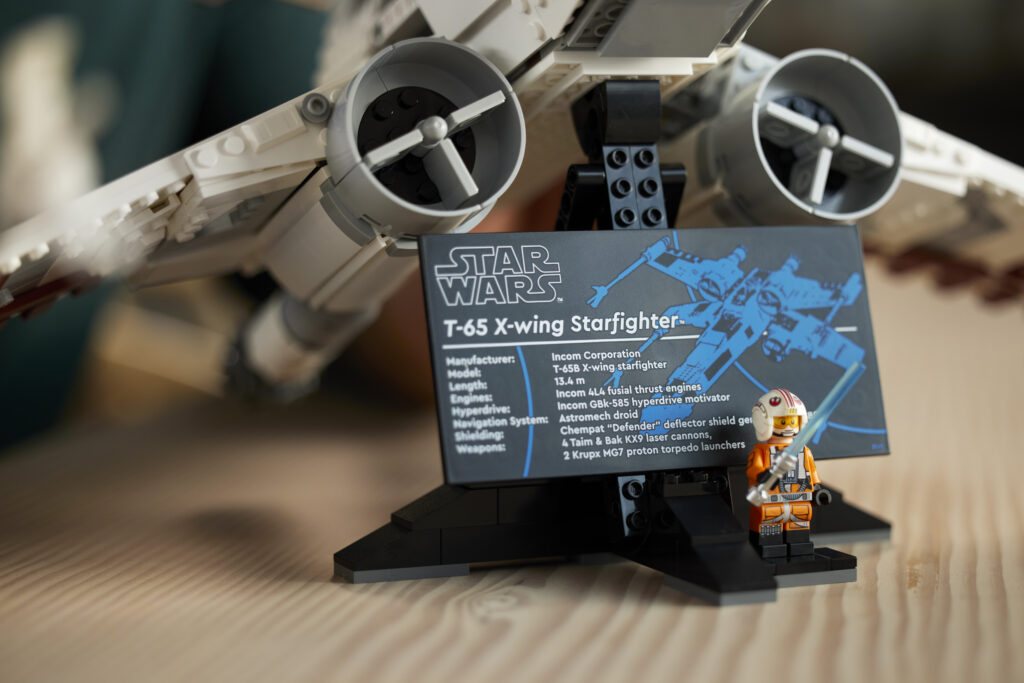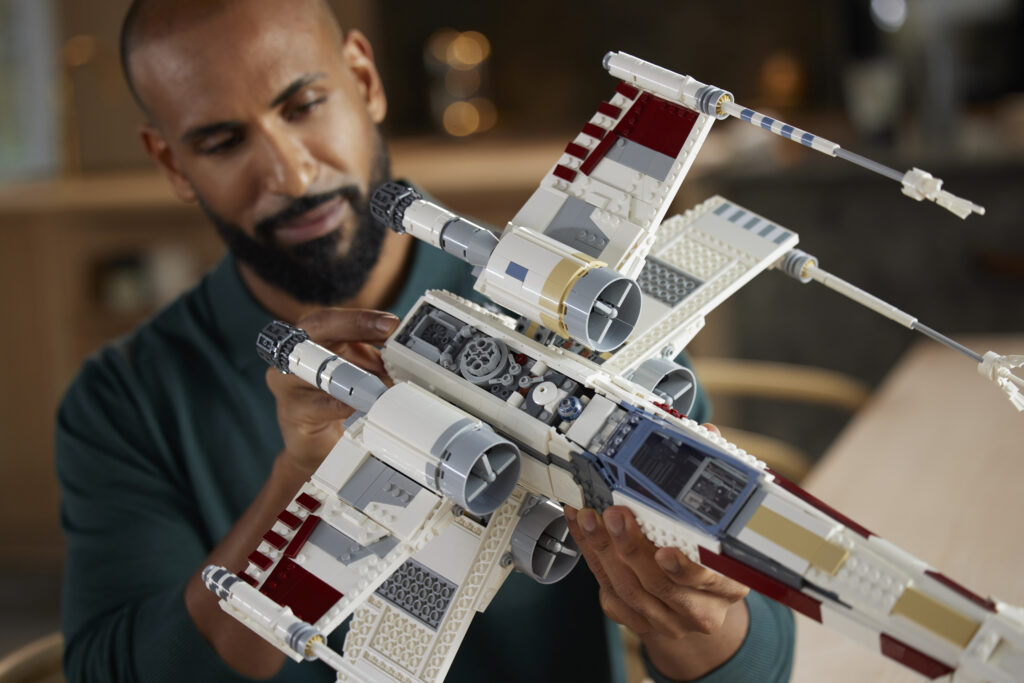 ---
Is this LEGO Star Wars UCS X-wing Starfighter a set you would like to get your hands on? Please share with us in the comments below! You can also follow us for more Brick stories on Instagram and TikTok @BettyLovesBricks.
For more new LEGO set releases per 1st May 2023, please go to this article.
---