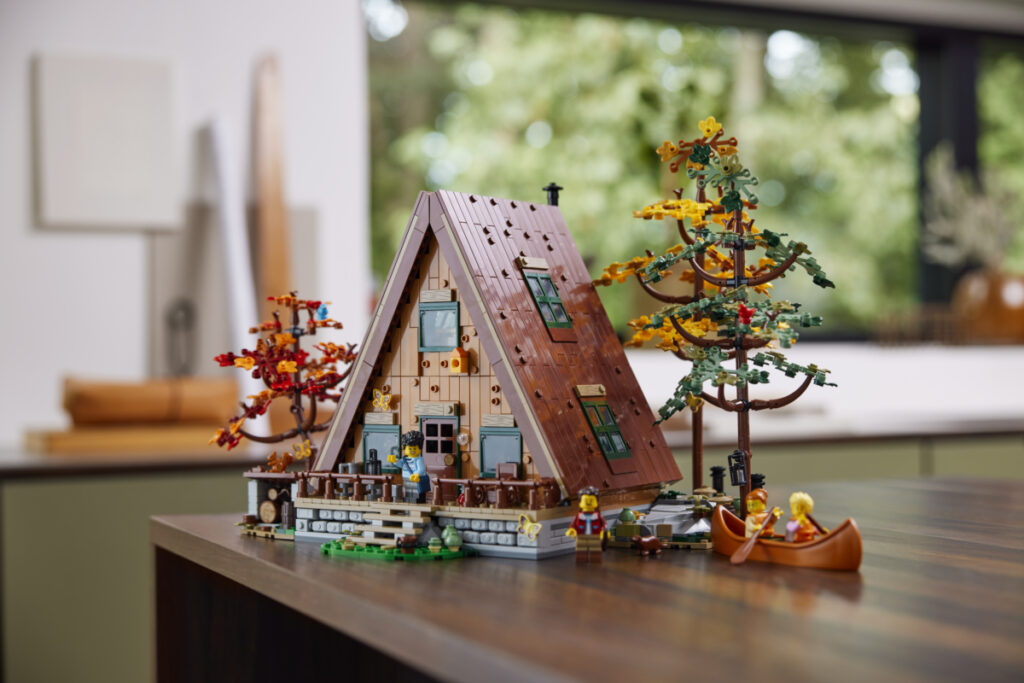 For those who want to withdrawl and return to nature, wooden cabins are probably the best options for an overnight stay. And in the past year the A-frame cabins have been popping up on social media, as seen on several mountaintops, forests, lakesides and more. If you are also a fan, then watch out for the new LEGO Ideas A-frame cabin #21338 coming out next month.
About LEGO IDEAS A-frame Cabin
This LEGO IDEAS is designed by Italian LEGO fan designer, Andrea Lattanzio. It is the perfect retreat when you want to get away from it all. Inspired by A-framed log cabins, this set features two-stories complete with upper bedroom and ground-floor living room and kitchen. With a mere 2,000 bricks this will keep you busy for hours, and to enjoy on display later. Live out your own outdoor adventures and get back in touch with nature.
"I was looking through a book with many strange houses from all over the world and I discovered the A-Frame and it was love at first sight. I started with a sketch, so I had a clear vision and then built my design in about 10-days."

Andrea Lattanzio – fan designer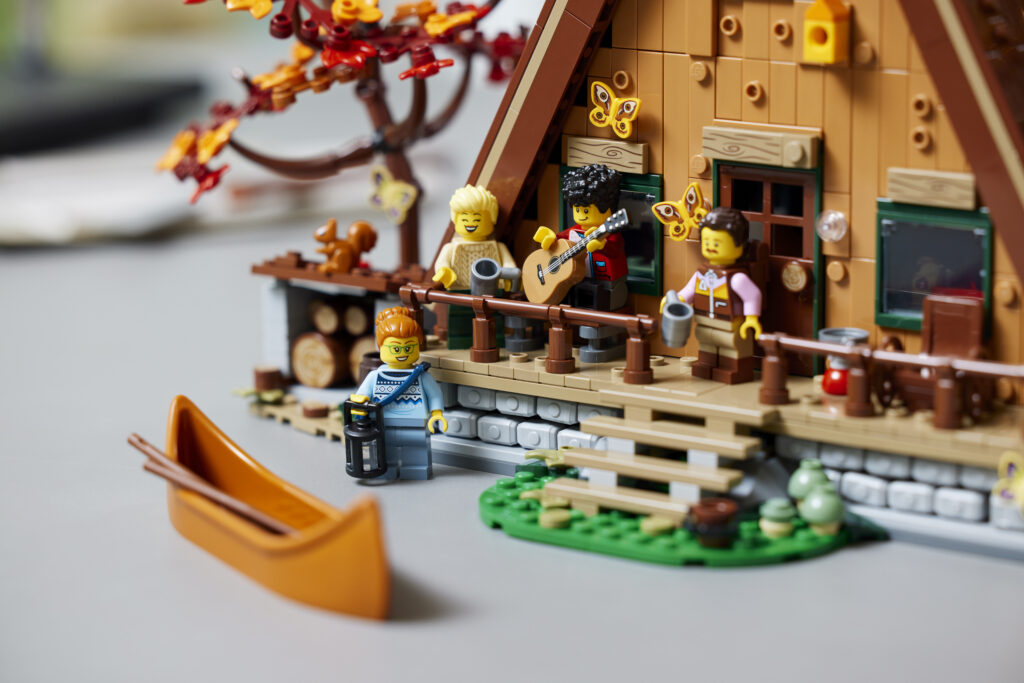 ---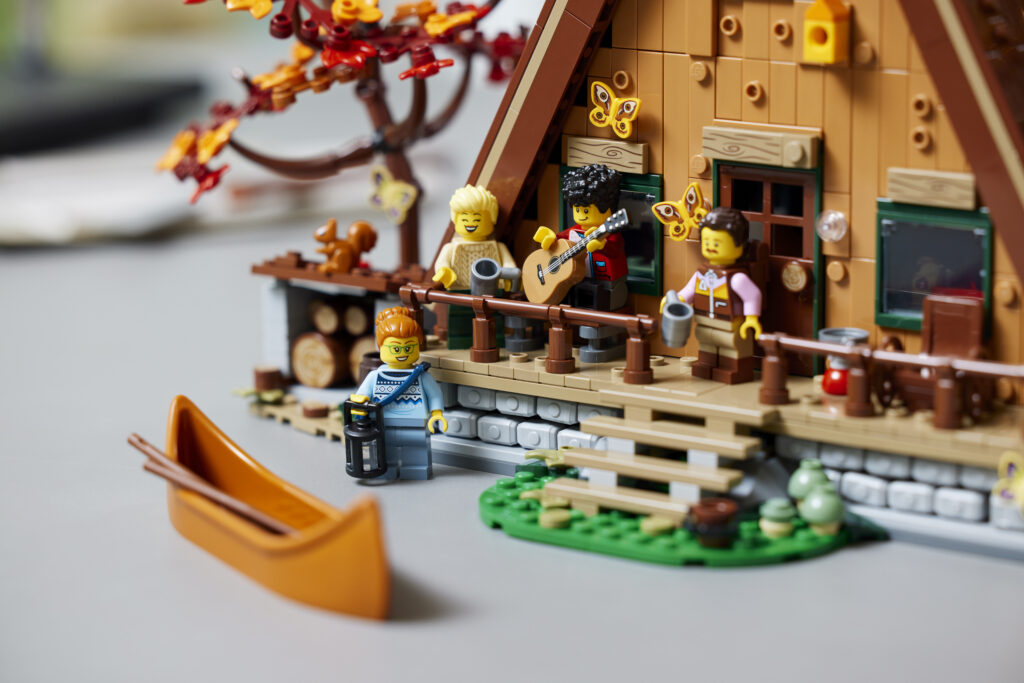 Information LEGO Ideas: A-frame Cabin #21338
Explore the simple pleasures of life in the countryside with this collectible LEGO Ideas display model of an A-Frame Cabin (21338). The angled roof is easily detached for access to the interior. The bedroom on the upper level and the living area, study and kitchenette on the lower level are full of accessories to create a cozy atmosphere. Outside there is a deck with steps down to the great outdoors. And just have a look at all those wooden panels, mushrooms and grey bricks underneath the deck. This set is so detailed and amazing, that I imediately want to pack my bags and go to the outdoors myself.
with this set you get 4 customizable minifigures and 11 animal figures, which are: 2 moths, 2 butterflies, 2 frogs, 2 birds, a spieder, an otter and a squirrel.
The set also includes 3 colorful trees that can be connected to create an island. Plus a canoe for more outdoor fun. Place the trees separately around the cabin or connect them to create a small island that the minifigures can reach using the canoe.
The LEGO® fans' choice – This collectible model for adults is one of LEGO Ideas sets, each created by fan designers, voted for by LEGO fans and put to production.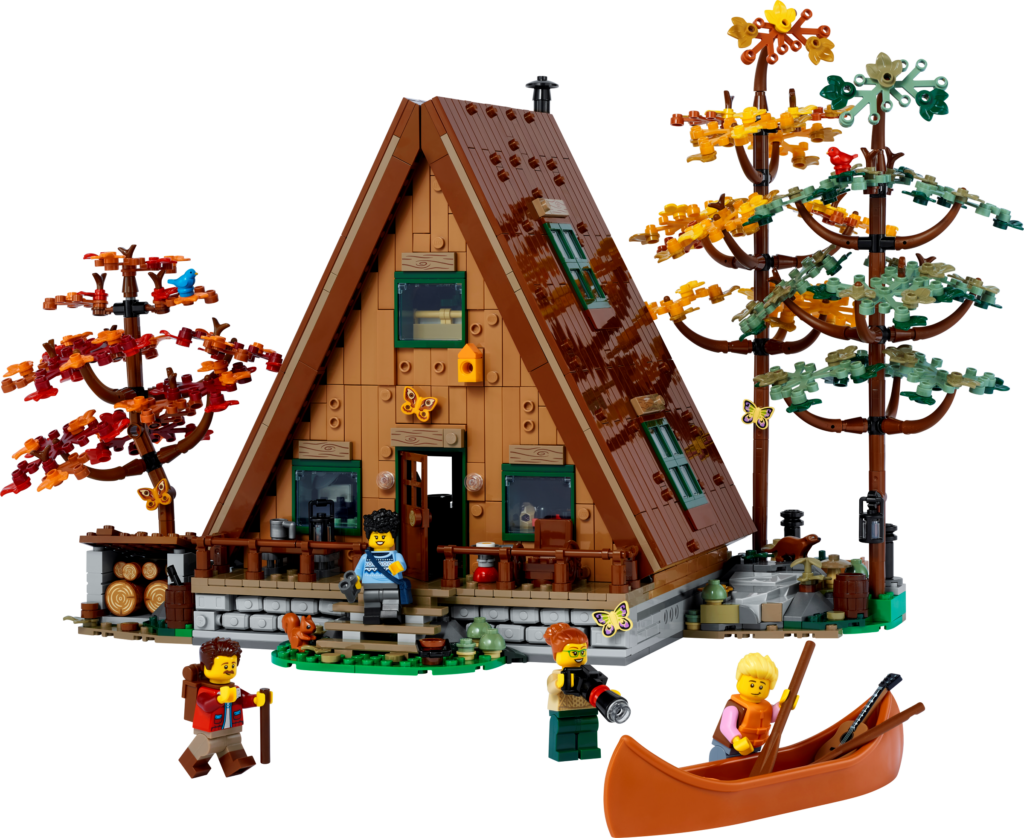 LEGO IDEAS #21338 A-frame set details
Set Name: A-frame Cabin
Set number: 21338
Theme: LEGO Ideas
Pieces: 2,082
Age: 18+
Minifigures: 4
Dimensions: H: 10″ (24 cm), B: 9″ (21 cm), D: 9″ (22 cm)
Retail Price: US$ 179.99 / NL € 179.99
Release Date: 1st February 2023
---
---
But what do you think? Are you also a fan of A-frame cabins or the outdoors and would be buying this set? Please share with us in the comments below! You can also follow us more Brick stories on Instagram and TikTok @BettyLovesBricks .
---