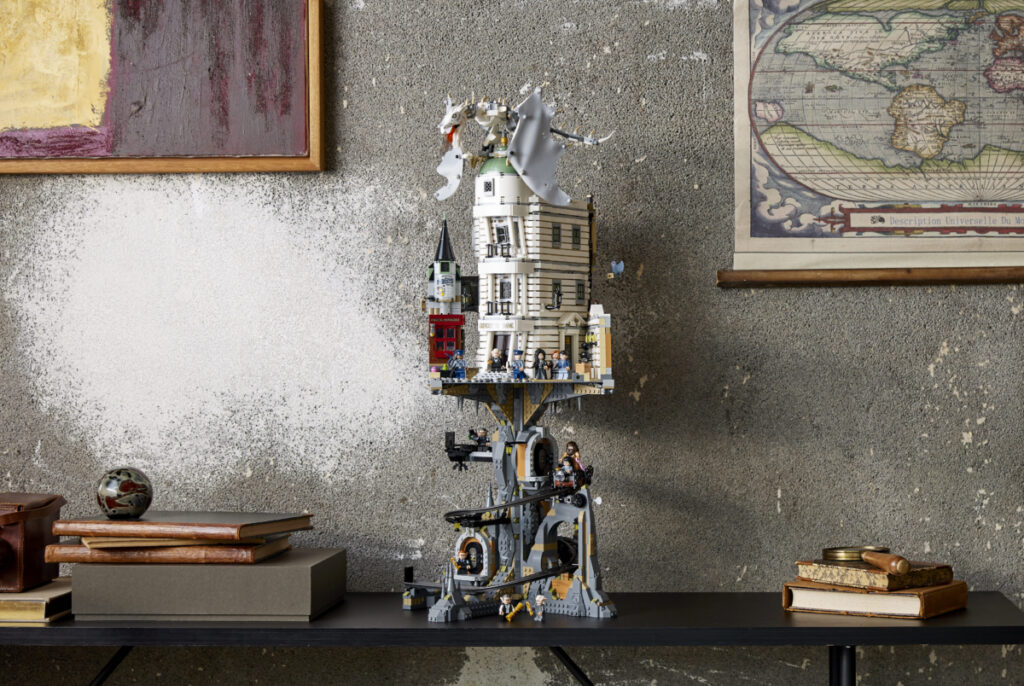 Fans of the LEGO Diagon Alley set have patiently been awaiting the arrival of a Gringotts Wizarding Bank set. And it finally is here! 1st September LEGO will be releasing the missing component to our LEGO Diagon Alley: The 76417 Gringott Wizzarding Bank with an amazing underground vault system.
Information 76417 LEGO Harry Potter Gringotts Wizarding Bank
Earlier this year, in a previous post, I already mentioned the rumours of LEGO releasing a new Harry Potter Gringotts Bank set. And last week they finally confirmed a huge set coming out in September so here is a closer look at it. It will be one of the tallest sets they've made with a whopping 75 cm height. And you not just get the Gringotts Bank that can be intergrated into the 75978 Diagon Alley set. But also 3 underground vaults and a spiraling vault cart, not to mention the Ukranian Ironbelly dragon from the 'Harry Potter and the Deathly Hallows' book.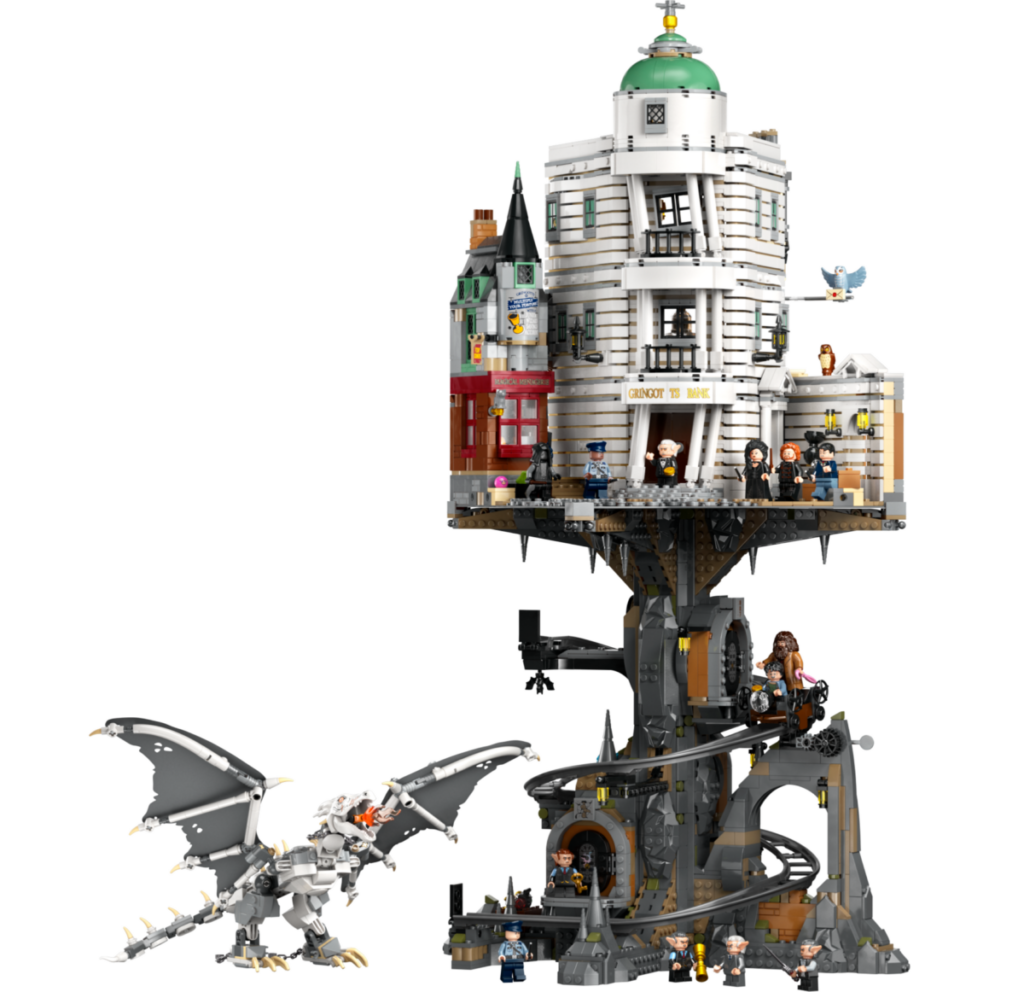 Reviews of Harry Potter Hogwarts Modular sets
If you are a fan of Harry Potter LEGO sets, then take a look here for all Harry Potter Hogwarts sets – in order of the books. I;ve also made several youtube reviews of modular LEGO Hogwarts sets that I own and love to combine to one large Hogwarts castle. Have a look at the video here. But I will be pleased to tell you all about the new LEGO Harry Potter Gringotts Wizarding Bank set in below Youtube video:
---
VIDEO: Review LEGO Harry Potter Gringotts Wizarding Bank 76417 set
Are you also a Harry Potter fan and would you like to get this set? Share your thoughts in the comments below and SUBSCRIBE to my Youtube channel for more video's.
---
LEGO Harry Potter Gringotts Wizarding Bank set details
Set Name: Gringotts Wizarding Bank
Set number: 76417
Theme: Harry Potter
Pieces: 4,803
Minifigures: 13
Age: 18+
Dimensions: H: 14.5″ (36 cm), W: 12.5″ (32 cm), D: 10″ (25 cm) for the Gringotts™ Bank section. The 3 models combined measure over 32 in. (79 cm) high.
Retail Price: USD 429.99 / EUR 429.99 | GBP 369.99
Release Date: VIP Early access: 1st September 2023 / Regular release: 4th September 2023
1st September is BACK TO HOGWARTS Day – check out all these cool LEGO promotions and GWP's.
---
---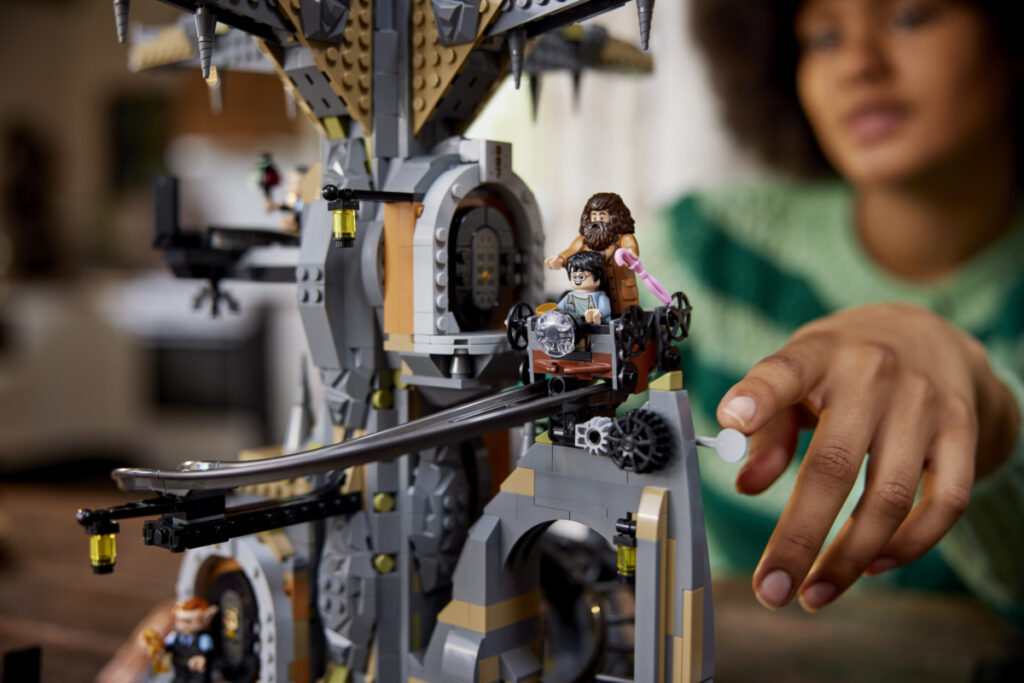 Is this set one you would also one you would like to get your hands on? Please share with us in the comments below! You can also follow us for more Brick stories on Instagram and TikTok @BettyLovesBricks .